MAFP Announces 2023 'Academy' Award Honorees
Registration for the 75th Anniversary Celebration Dinner is Open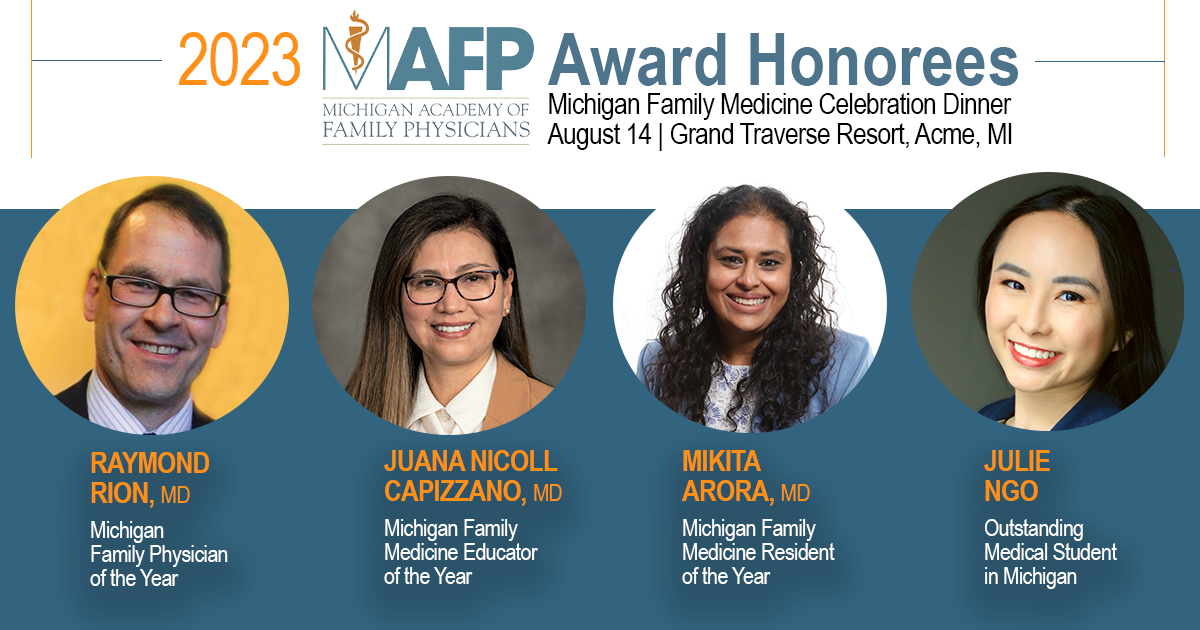 Michigan Academy of Family Physicians—the state's largest specialty physician association, which is 4,300 members strong—is pleased to announce the honorees of this year's "Academy" awards.
The awards will be presented at the Michigan Family Medicine Celebration Dinner on Monday, August 14, at Grand Traverse Resort near Traverse City.
"In keeping with the tradition of Michigan Academy of Family Physicians' long-standing awards program, the 2023 honorees are exemplary family physician, family medicine resident physician, and medical student members of the Academy and the communities where they work, train, and serve," said MAFP President Glenn Dregansky, DO, FAAFP.
Michigan Family Physician of the Year
Raymond Rion, MD
Executive Director and Family Physician
Packard Health (a federally qualified health center with three sites in the Ann Arbor-Ypsilanti area)
Academy member since 1990
Michigan Family Medicine Educator of the Year
Juana Nicoll Capizzano, MD
Assistant Professor, Director of the Advanced Primary Care Ultrasound Fellowship, and Director of the Clinical Ultrasound Program
Department of Family Medicine, University of Michigan
Academy member since 2014
Michigan Family Medicine Resident of the Year
Mikita Arora, MD
Class of 2023
McLaren Oakland Family Medicine Residency
Academy member since 2020
Outstanding Medical Student in Michigan
Julie Ngo
Class of 2023
Michigan State University College of Human Medicine
Academy member since 2019
The Michigan Family Medicine Celebration Dinner is a special event of the annual Michigan Family Medicine Conference & Expo; this year it will commemorate MAFP's 75th anniversary as a state chapter of American Academy of Family Physicians.
Registration for the Celebration Dinner is open to MAFP members, guests, and the awardees' family, friends, and co-workers: bit.ly/2023MiFMCE. Come celebrate with us!