Fall "Future of Family Medicine" Conference Connects Medical Students, Practicing Physicians, Residents
Registration Opens June 1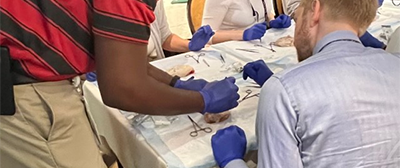 Family Medicine Foundation of Michigan's 10th annual Michigan Future of Family Medicine Conference & Residency Connection is the must-attend event for medical students of every program year.
The 2023 one-day conference is being held Saturday, Sept. 16, at the Sheraton Novi Hotel in Novi, easily accessible off I-96.
Programming includes:
Hands-on workshops featuring several clinical procedures that family physicians perform in outpatient settings—suturing, casting and splinting, and women's procedures. Practicing physicians will lead the workshops, assist students, and answer questions, with residents on-hand to help as well.


"Careers in Family Medicine" small group discussions. In a round-robin "speed-dating" format, students will have the opportunity to talk with seasoned family physicians about their subspecialties and special areas of interest, such as rural medicine, gender-affirming care, women's health, sports medicine, and a lot more.


Two hours of dedicated time to talk with residency program directors, faculty, and residents. This is especially important for 2024 graduates who will be applying for residency positions beginning Sept. 6.
The cost of attending the conference is just $60 for student members of MAFP, and student membership in the Academy is free. Breakfast and lunch are included.
Here's what some past conference attendees had to say about their experience:
"This conference is the mini version of AAFP's National Conference. It's a wonderful opportunity to network on a more intimate level. I loved seeing some familiar faces from previous conferences and meeting new ones!" – Khizran Ali


"Great event! I attended the virtual event in 2021 and enjoyed this one much more! Thanks for bringing out 20 residency programs from Michigan." - Rachel Swanson


"I'm glad I came! It helped answer questions I had about the Match process and better prepared me for the future." – Aaron Berman


"Thank you for supporting students!" – Sumiran Mehta


"It was helpful seeing all the different ways of being a family physician." – Patricio Ruano
Call for Residency Program Exhibitors
The Michigan Future of Family Medicine Conference & Residency Connection provides a valuable opportunity for programs to highlight their unique qualities, showcase our Pure Michigan state, and get to know rising applicants in an informal setting. The date of the conference makes it a prime opportunity to get "last looks" before programs begin reviewing applications on Sept. 27.
Call for Clinical Workshop Leaders & Instructors
Do you have a passion for teaching medical students? Family Medicine Foundation of Michigan is seeking family physicians to lead a clinical workshop and help instruct students as they practice the skill taught to them, and residents to assist.
Call for "Careers in Family Medicine" Small Group Leaders
Practicing physicians are being sought to lead small-group tabletop discussions about subspecialties / special areas of interest. 
Attendee, residency program, and volunteer registration opens June 1.