Introducing High School Students to Family Medicine
Inspiring the Next Generation of Family Physicians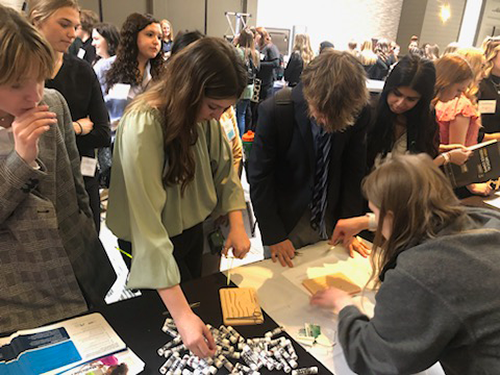 With 75 of Michigan's 83 counties having at least partial designation as a primary care health professional shortage area, there is an urgent need for more family physicians. That need is projected to reach new heights as our population ages and physicians retire. Thus, working to grow family medicine is important for increasing the primary care workforce and improving access to care. That is a large focus of the work of Michigan Academy of Family Physicians (MAFP) and its philanthropic arm, Family Medicine Foundation of Michigan (FMFM).
Not only do MAFP and FMFM provide opportunities for medical students to explore the specialty and work to keep resident physicians in Michigan once they complete training, efforts are also underway to spark interest in family medicine for high school students.
Most recently, MAFP hosted a booth at the 2023 Michigan HOSA State Leadership Conference. HOSA Future Health Professionals (formerly known as Health Occupations Students of America) is recognized by the U.S. Department of Education as a career and technical student organization. The organization includes a national network of school-based student organizations in which middle school, high school, college, and other post-secondary students explore health professions.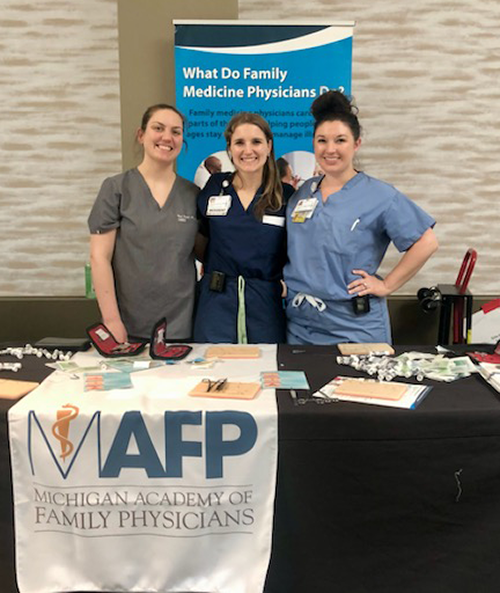 Representing MAFP at its conference booth were Drs. Blair Brown, Rachel Cleminson, and Adrianna Thibault—residents at the Munson Family Medicine Residency Program in Traverse City. They talked with high school students about the aspects of family medicine that reflect their passions, shared their joy in practicing medicine, described the broad scope of family medicine careers, and answered questions.
Suturing kits were also available to provide students with hands-on experience.
"The event was great! The family medicine booth was one of the most popular. In fact, so many students were interested, we could have used two tables to accommodate more students at once," said Dr. Thibault.
More than 2,400 high school students interested in health careers attended the 2023 Michigan HOSA State Leadership Conference.
"Michigan Academy of Family Physicians and Family Medicine Foundation of Michigan are excited to continue our partnership with HOSA Future Health Professionals of Michigan. Working together to support student exploration of family medicine careers is key to inspiring the next generation of family physicians," said MAFP Chief Executive Officer Karlene Ketola, MSA, CAE.
If you are interested in being paired with a HOSA high school student to talk about family physician career pathways and connect them with the specialty on a personal level or representing the family medicine specialty at future events, email [email protected].