Michigan Delegates Ignite Change for IMGs, Mental Healthcare, Protecting Family Physicians from Aggression
National Leadership Conference Gives Voice to Underrepresented Member Groups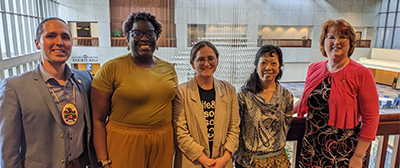 Michigan Academy of Family Physicians members and staff attended American Academy of Family Physicians' National Conference of Constituency Leaders (NCCL) and Academy Chapter Leader Forum (ACLF), held congruently May 9-11, in Kansas City, MO. These annual conferences are flagship leadership events, where family physicians shape Academy policies and positions on issues impacting the practice of family medicine.
Constituency Delegates
Five member constituency delegates represented MAFP by introducing, discussing, and voting on resolutions (proposals for change) through the lens of their constituency:
International Medical Graduate: Sahoko Little, MD, PhD (Ann Arbor)
LGBTQIA+ Physician Ally: Tina Tanner, MD, FAAFP (Muskegon)
Minority: Frank Animikwam, MD (Petoskey)
New Physician: Aisha Harris, MD (Flint)
Woman: Hannah Rosenfield, MD (Kalamazoo)
"I think it is important to participate in forums and discussions that impact upstream medicine and the public health crises that exist. Additionally, I believe that health policy plays an important role in how I practice medicine and I would like to help speak and act on my experiences, concerns, and ideas for the future of family medicine," said Dr. Harris, explaining why she applied to serve as a delegate.
Also attending NCCL from Michigan was Delicia Pruitt, MD, MPH, FAAFP (Saginaw), who served as a member constituency co-convener—a position she was elected for at the 2022 NCCL. Electing national leaders is another key duty of delegates, and they have the option of running for positions as well.
Attending ACLF on behalf of MAFP were:
Glenn Dregansky, DO, FAAFP (Jerome), MAFP President
Rachel Klamo, DO, FAAFP (Oxford), MAFP Vice President
Karlene Ketola, MSA, CAE, MAFP Chief Executive Officer
Sarah Pinder, MAFP Director of Member Engagement
Michigan Resolutions
The Michigan Delegation was successful in introducing seven resolutions that were adopted or adopted with substitutions. These and other resolutions adopted at NCCL are now forwarded to the AAFP Board of Directors and assigned to appropriate AAFP commissions. Any resolution directly forwarded to the AAFP Congress of Delegates will be reviewed first by the Commission on Membership and Member Services.
Advocate for Eliminating J-1 Requirement for Family Physicians—calls on AAFP to actively advocate for elimination of J-1 visa holders' requirement to return to the home countries for those who completed family medicine residency in the United States.
Transparency in Visa sponsorship Information for Residency and Fellowship Programs—calls on AAFP to develop policy encouraging family medicine residencies and organizations that house residency and fellowship application services and databases to be fully transparent about institution-level support of visa waivers.
The Role of Family Physicians in Responding to Mental Health Crisis—calls on AAFP to create CME content that introduces family physicians to the skills required to support and protect patients experiencing mental health crisis, and to develop a mental health crisis intervention team toolkit for family physicians to initiate and create multidisciplinary mental health crisis behavioral health teams in their communities and in practice settings.
Promoting Awareness and Training on Disabilities in Family Medicine—calls on AAFP to encourage and assist chapters to explore partnerships with Statewide Independent Living Councils, and to co-create a toolkit of best practices for care with members of the disability community.
Family Planning in the Neighborhood Navigator-Navigating Against Disinformation—calls on AAFP to collaborate with members who provide evidence-based full spectrum reproductive healthcare to develop criteria for removal of crisis pregnancy centers and vetting for any current or future comprehensive reproductive health resources in the Neighborhood Navigator search tool.
Promoting and Increasing Native American Representation in Family Medicine at All Levels—calls on AAFP to identify and explore partnerships with Tribal Nations and organizations such as Indian Health Services, Association of American Indian Physicians, and Tribal Epidemiology Centers, to be better informed on health disparities impacting Native Americans; maintain and expand upon Culturally, Linguistic, Appropriate Services toolkits, including supporting the creation of a Native American Healthcare Member Interest Group and other resources to highlight Native American health; and include land acknowledgements at the start of AAFP's' Annual Chapter Leader Forum and National Conference of Constituency Leaders.
Protecting Family Physicians from Abuse and Harassment—calls on AAFP to adopt a consistent statement that it fully supports family physicians practicing the full scope of medicine free of violence, harassment, criminalization, defamation, and bullying; research violence, harassment, criminalization, defamation, and bullying toward family physicians; publish resources on the physician well-being website and integrate it into the physician health and well-being curriculum supporting physicians anticipating experiencing, experiencing, or having had experienced violence, harassment, criminalization, defamation, and bullying; and develop a process by which members can obtain support when experiencing violence, harassment, criminalization, defamation, or bullying.
Looking Ahead
AAFP's 2024 National Conference of Constituency Leaders and Academy Chapter Leader Forum will be held  April 18-20 in Kansas City, MO. Michigan Delegates—one per member constituency—will be appointed by the MAFP Executive Committee. Active family physician members of MAFP are eligible to apply. Applications are due by Nov. 26.