Nationally Renowned Family Physicians Headline Michigan Family Medicine Conference & Expo
Join Us!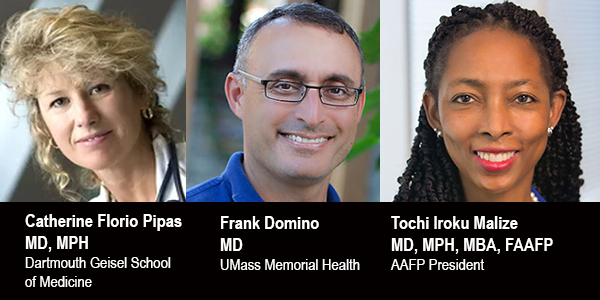 In addition to offering up to 30.5 continuing medical education credits, opportunities to connect with long-time and new friends, and time to enjoy the beauty and something-for-everyone activities of the Traverse City area, the 2023 Michigan Family Medicine Conference & Expo boasts three stellar keynote speakers.
Physician Well-being
Attend the interactive well-being workshop led by Catherine Florio Pipas, MD, MPH on Aug. 12 and walk away with a plan for personal health improvement.
"Well-being is critical to one's effectiveness as a clinician, educator, researcher, mentor, parent, spouse, and member of society. Burnout limits our well-being and is a growing crisis in healthcare. We must all have the time, tools, and permission to advance self-care and create support environments," she said.
Dr. Pipas is professor of Community and Family Medicine at The Dartmouth Institute for Health Policy and Clinical Practice and the Department of Medical Education at Geisel School of Medicine at Dartmouth. She has been recognized as a passionate leader in education, research and clinical care with awards including, but not limited to, the 2019 STFM Humanism in Medicine Award and the 2017, 2018, and 2019 New Hampshire Top Doctor, Dartmouth Medical School Master Educator, AOA Honor Society, and Dartmouth Clinical Teacher of the Year. 
She serves as co-chair of AAFP's Leading Physician Well-being Program, was appointed to the Administrative Board of the Association of American Medical Colleges Council of Faculty and Academic Societies, and authored A Doctor's Dozen: 12 Strategies for Personal Health and a Culture of Wellness, touted as "a gold mine of insight and good practical advice."
Care Strategies
The Aug. 13 keynote, Top 10 2023 Evidence-based Medicine Updates, will be led by Frank J. Domino, MD, professor in the Department of Family Medicine and Community Health at the University of Massachusetts Medical school, author, and blogger. He is also editor-in-chief of the "5 Minute Clinical Consult" series—a bestselling reference to help physicians make accurate decisions at point-of-care for more than 540 disease and condition topics—and host of the Frankly Speaking About Family Medicine podcast, named one of the top five podcasts every family physician should listen to for medical knowledge.
Dr. Domino will share the latest clinical recommendations for your family medicine practice via a jam-packed, rapid-fire review of notable, recent research findings mixed with humor. Leave smiling, entertained, and armed with care strategies to help you provide high-quality, evidence-based care.
Inspiring Positive Change
On Aug. 14, American Academy of Family Physicians President Tochi Iroku-Malize, MD, MPH, MBA, FAAFP will talk about "family physicians inspiring positive change." Discover AAFP's plans for ongoing advocacy on behalf of family physicians and patients as it continues transforming healthcare in the United States, with the goal of achieving optimal health for all.
"The American Academy of Family Physicians has been a significant part of my life. I have been a member for nearly 25 years. I have grown as a leader, advocate, and physician thanks to the AAFP. I remain committed to strengthening primary care by encouraging our members to be change agents in their communities and throughout the health care system, by advocating for better health care policies and payment, and by emphasizing the importance of physician well-being," she said.
Dr. Iroku-Malize practices family medicine in Long Island, NY; is the founding chair and professor of family medicine for the Donald and Barbara Zucker School of Medicine at Hofstra/Northwell; and serves as senior vice president and chair of the family medicine service line for Northwell Health that encompasses nearly 100 residents, 380 medical students, and 500 family physicians spread across 23 hospitals. In this role she oversees four family medicine residency programs and three fellowships.
Click here to learn more and register for the Michigan Family Medicine Conference & Expo, being held Aug. 12-15, at Grand Traverse Resort in Acme, just minutes from Traverse City.