Latest News
Thursday, May 25, 2023 02:30 PM
Dr. Shirin Doshi Inducted into Sparrow Physician Hall of Fame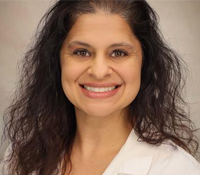 During a special dinner in May 2023, Shirin Doshi, DO was inducted into the Sparrow Physician Hall of Fame. Dr. Doshi practices family medicine at Sparrow Family Health Center in Lansing, where she is committed to improving patient care, patient outcomes, and patient safety.
"Dr. Doshi is a respected and sought-after leader in case management and other areas," said a Sparrow press release.
Sparrow Physician Hall of Fame candidates can be nominated by colleagues or members of the community.
Dr. Doshi has been an Academy member since 2004. She is a graduate of Michigan State University College of Osteopathic Medicine and Sparrow/MSU Family Medicine Residency Program.