Michigan Family Medicine Resident of the Year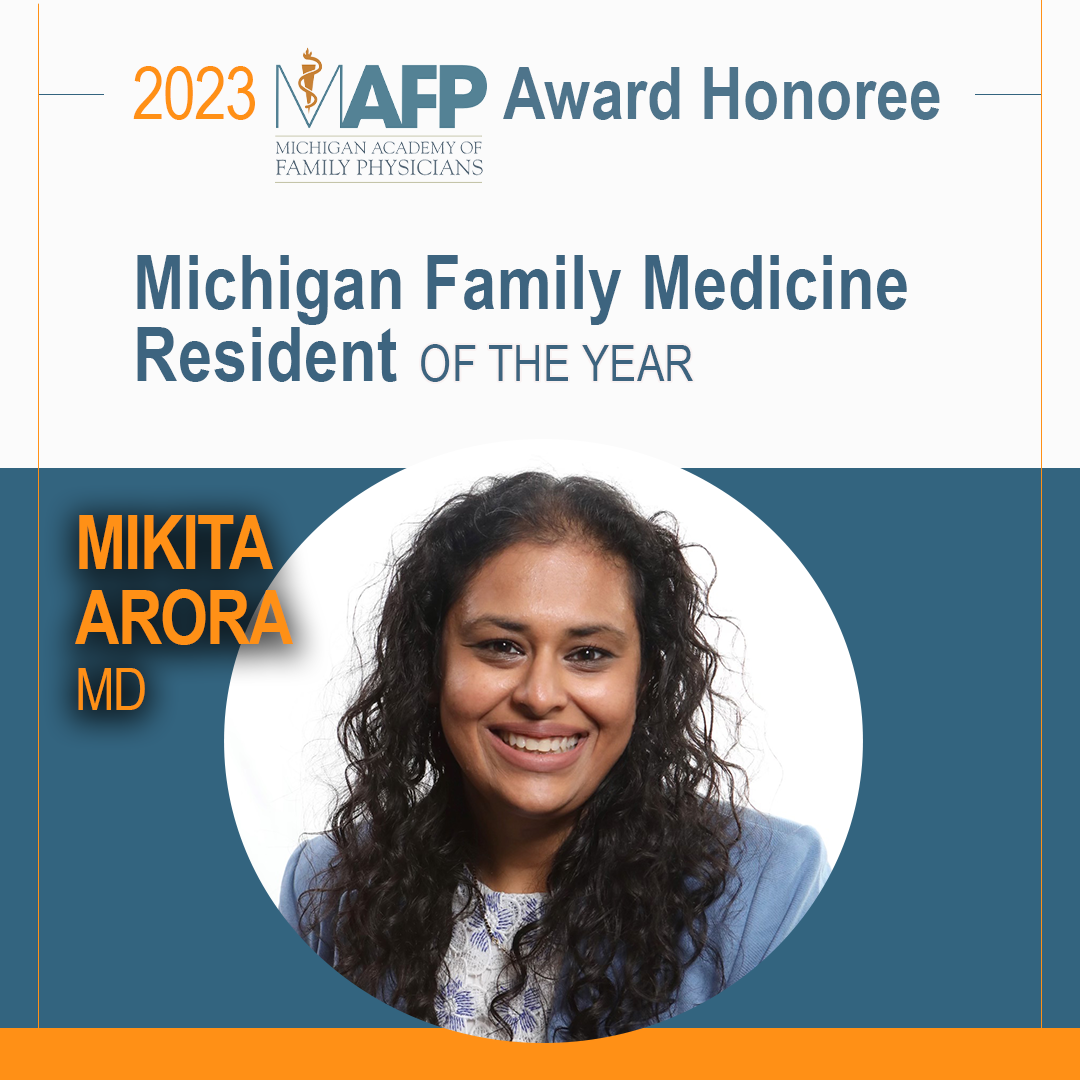 The Michigan Family Medicine Resident of the Year award is presented to residents who exhibit qualities of exemplary patient care, demonstrate leadership, display a commitment to the community, contribute to scholarly activity, and are dedicated to the specialty of family medicine.
---
Eligibility
Nominees must be resident members of MAFP at the time of their nomination and spend at least 50% of their time providing patient care; previously nominated residents who were not selected are eligible for reconsideration (re-nomination required)

MAFP members, residency program directors, faculty, colleagues, hospital administrators, and patients are invited to submit nominations
---
How to Submit a Nomination
Complete the nomination form by March 1.

Submit* the following to MAFP by March 1:

Letter(s) of recommendation from the nominee's residency program director; if the residency program director is the nominator, please submit a letter of recommendation from another residency program faculty member

Letter(s) of recommendation from a physician colleague, hospital administrator, patient, and/or or community leader who has personally worked with the nominee

CV

Additional materials that will help in the decision-making process
*Email to [email protected]; fax to 517.347.1289; or mail to: MAFP, Attn: Academy Awards, 2164 Commons Parkway, Okemos, MI 48864.
---
Past Award Winners
2023: Mikita Arora, MD
2022: Meredith Baumgartner, MD, MPH
2021: Sravani Alluri, MBBS
2020: Jawan Gorgis, MD and Julie Thai, MD, MPH
2019: Cara Crawford-Bartle, MD
2018: Kristin Renwick, MD
2017: Benjamin Davidson, MD, MBBS
2016: Bashar Yalldo, MD
2015: Elizabeth "Libby" Pionk, DO
2014: Cheryl Smith, MD