Hands-on Externship Strengthens Medical Student's Commitment to Family Medicine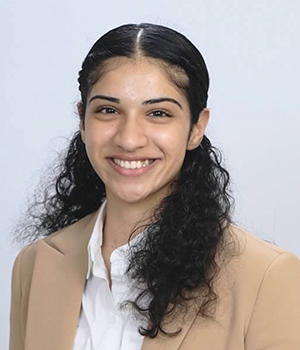 There's nothing like first-hand experience to bring something to life. That's true of the family medicine specialty, which is why Family Medicine Foundation of Michigan—Michigan Academy of Family Physicians' philanthropic arm—sponsors its annual Medical Student Externship program.
By matching AAFP Foundation grant funding, the Family Medicine Foundation of Michigan Board of Trustees selects, through a competitive application process, up to two students from Michigan to work with a family physician mentor of their choice for four or more weeks. Each student and mentor receive a stipend at the end of the externship. The goal: facilitate hands-on experience with the breadth and depth of family medicine through the lens of the selected students' areas of interest.
"Doing the externship at Care Free Clinic in Lansing, Michigan, has by far been the most impactful experience when it comes to my development as a medical student and future family physician," said Nikita Bhangu, now a third-year student at Michigan State University College of Human Medicine.
Nikita chose to spend her month-long externship learning from Farhan Bhatti, MD, a family physician and Care Free Medical's chief executive officer, and Michelle Loubert, DO, family physician. Since its inception in 2004, Care Free Medical has provided over 70,000 visits to the uninsured or under-insured in the Lansing area, thanks to a dedicated staff that is small but mighty, the generosity of volunteers, and other supporters.
During May 2023, Dr. Bhatti and Dr. Loubert provided Nikita with a robust family medicine experience that included collecting detailed patient histories, performing physical exam components, and working through assessments and patient care plans.
Equally important to Nikita was learning how to care for an underserved population, which she aspires to serve in the future. Her awareness was heightened of the unique obstacles that must be overcome, both on the physician and patient side, to diagnose and treat conditions; the externship, she said, opened her eyes to what she needs to consider socially and culturally when working with patients, as well as the shortcomings of our healthcare infrastructure that need to be addressed. 
"Through the outstanding mentorship of Dr. Bhatti and Dr. Loubert, I've become more confident in my decision to pursue a career in family medicine. They demonstrated the critical role you get to play in a patient's life and health. I became better aware of themes that I will take with me through the rest of my medical career, including the medical and social preventative maintenance we should advocate for as family physicians, the wide skill set we have for both chronic and acute conditions, and that there is still nothing more important in this field than the doctor-patient relationship," shared Nikita.
"Unique experiences like this externship add so much value and substance to a medical education that cannot come to fruition by solely reading from textbooks. I highly recommend any medical student take part in this experience."
Learn more about Family Medicine Foundation of Michigan's Medical Student Externship program at mafp.com/externships. There you access the application form and can read about past externs—several of whom are current family medicine residents and others who are practicing family physicians.
Below are excerpts from past externs that highlight the power of FMFM's Medical Student Externship Program.
"Over the month I saw the true definition of full-spectrum family medicine manifest…"
"My heart is so full of overwhelming emotions of hope and excitement. I know for a fact now that family medicine is more than the right choice for me."
"This month reminded me of why I am pursuing medicine, and why I have chosen family practice."
"There was never a patient or hour that went by where teaching wasn't going on, whether from the physician to myself, the physician to the patient, or the attending to the resident."
"This externship gave me the best clinical learning experience that I have had so far in medical school."
"I can now confidently say that my experience in family medicine this summer decidedly erased all those doubts…I was able to see exactly what I want my future career to look like."
"My externship was eye opening; and, in retrospect, it was my first look into what makes family medicine so special to me: a broad scope of practice and meaningful, long-term relationships with patients."