Stay Informed
Getting the information you need (when and how you want it) about state and national happenings impacting the practice of family medicine, advocacy and government relations, opportunities for earning CME credits, leadership positions, member news, networking events, career advancement, and resources are benefits of MAFP membership. We communicate need-to-know information via our
Michigan Family Physician Update e-newsletter
,
Michigan Family Physician magazine
, and social channels (
Facebook

,

Twitter

,

Instagram

,

LinkedIn
).
Make Connections
Networking—the process of making connections and building relationships—is a key benefit of MAFP membership for which there is no price tag. Through networking you can gain advice, contacts, mentors, support, and career advancement insight. Plus, since AAFP and MAFP membership is unified, establishing connections locally and nationally is made easy. The Academy offers virtual and in-person networking opportunities through events, webinars, and member interest groups.
---
Member of the Month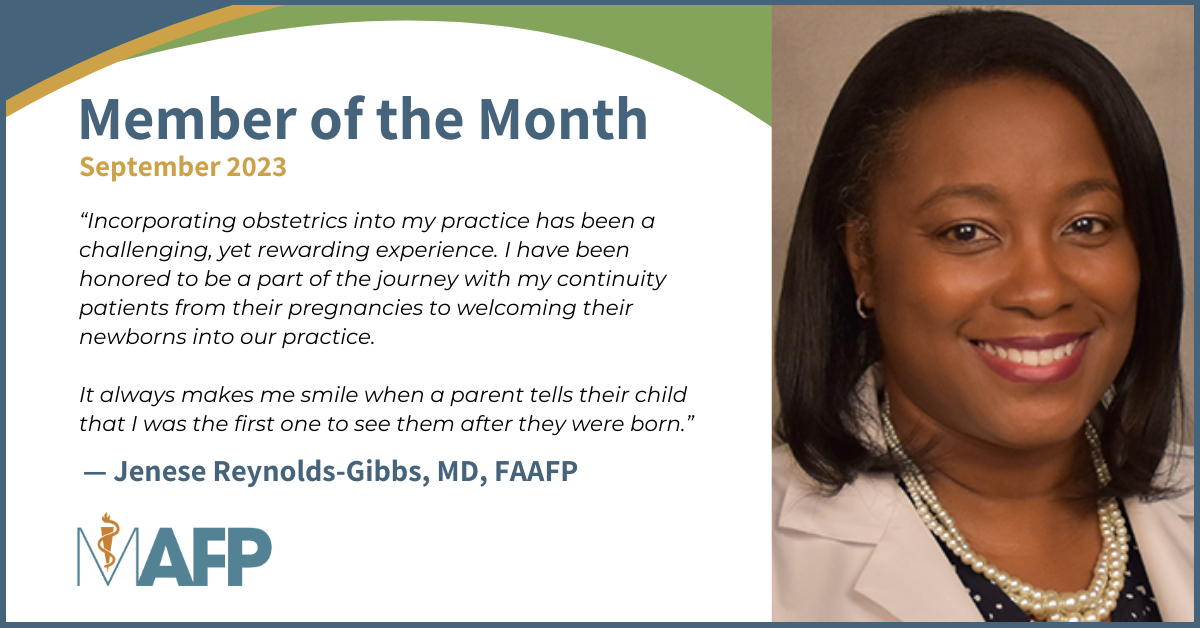 MAFP's Member of the Month feature showcases the breadth, depth, and versatility of the family medicine specialty. Did you know…
82%

of family physicians routinely perform procedures in the outpatient setting

48%

care for patients in hospital settings

18%

provide obstetrics care

77%

practice geriatric medicine

39%

work in sports medicine

74%

care for infants and children

82%

manage chronic conditions

31% focus on hospice/palliative care


Get Involved
From volunteer leadership positions and advocacy speak-out opportunities, to CME presentations and resolution submissions, there are many ways for members to get involved in MAFP to make a difference for your profession, practice, and patients. Explore the Physician, Resident, and Student sections to find your perfect fit. Members, be sure to login to access member-only areas of the website and discounted pricing on events and on-demand education.


---
Fall 2023 Student Conference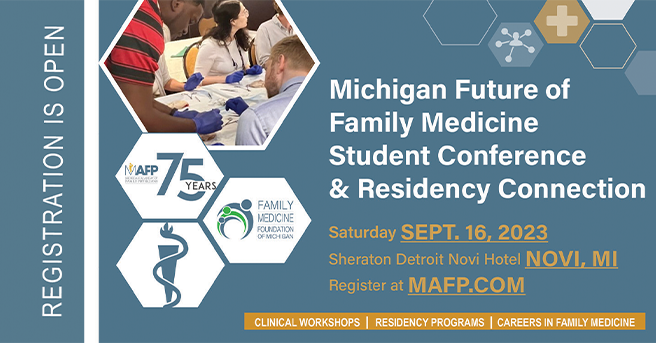 This annual conference provides opportunities for medical students to explore family medicine specialty through small group discussions with family physicians about subspecialties and areas of interest; hands-on clinical workshops for learning and practicing procedures common in the family medicine outpatient setting; and two hours of dedicated time to connect with residency programs and other organizations that support medical students.
Residency programs and other organizations, family medicine faculty, family physicians, and family medicine residents are invited to get involved in this event to advance the future of family medicine. Sponsors, exhibitors, and volunteers are key to the success of the conference!